Turret Defense
Holiday Update V. 1.6
The Holiday Update is here!
More Balancing
We have made the game much more balanced.
Endless Mode includes less types of enemies.
Radius of Missile Launcher is now 7 instead of 8.
Tougher enemies are worth 70 instead of 80.
Tougher enemies have a speed of 7 instead of 5
And other small changes...
Holiday Update!
We have added a new Holiday Level, and snow particles for each level. The download for this will be available until January 1st!
Holiday Level will include 15 waves, snow, moving train, and objects related to the holidays.
In each level it will be snowing.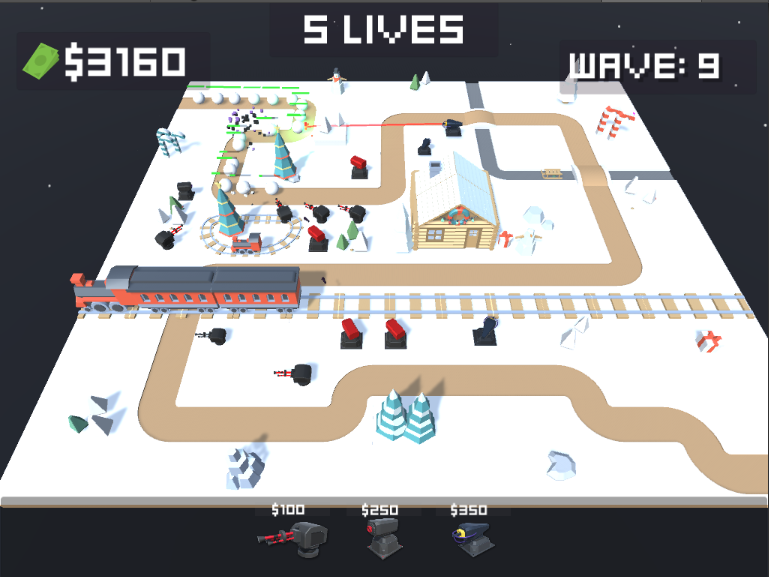 Other Stuff:
We have noticed that the white custom cursor that we have added will cause some trouble with the new Holiday Level, and the pause menu. The cursor is very hard to see since the platforms and the buttons are white, and the cursor is white. So, we are deciding to remove the cursor to the normal one.
More updates will be upcoming to add more levels, balance the game, fix any bugs, and add more turrets.
Hope you enjoy this update!
Concerns, ideas, questions? Join our discord server and talk to us! Discord: https://discord.gg/r8bKjDF
Files
Turret Defense 1.6 (Holiday Version) - Windows
12 MB
Dec 18, 2017
Turret Defense 1.6 (Holiday Version) - Mac
25 MB
Dec 18, 2017
Turret Defense 1.6 (Holiday Version) - Linux
25 MB
Dec 18, 2017